Tuesday January 31, 2023
Finances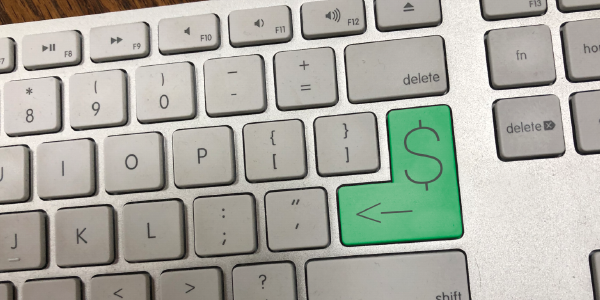 Jack in the Box Provides Quarterly Earnings
Jack in the Box Inc. (JACK) reported its first quarter earnings on Wednesday February 23. The fast-food company's shares dropped 2.2 % following the release of the report.

The fast-food chain brought in revenue of $344.7 million for the quarter, missing analysts' expected revenue of $346 million. This was up 1.8% from $338.5 million in revenue reported at the same time last year. Revenue for the full year reached $2.2 billion.

"We began fiscal 2022 with solid results, including comps on a two-year basis of +13.7%, despite a challenging operating environment for the entire industry," said Jack in the Box CEO, Darin Harris. "I am proud of the resilience demonstrated by our franchisees, operators and corporate team members in delivering for our guests during a difficult period. We remain highly focused on fundamentals, franchisee health and showing progress on our long-term restaurant growth goals."

The company reported net earnings of $39.3 million for the quarter or $1.97 adjusted earnings per share. This is down from $50.9 million or $1.98 adjusted earnings per share during the same quarter last year.

Jack in the Box reported company owned same-store sales saw a decrease of 0.3% in the quarter. Franchise owned same-store sales increased 1.4%. System same-store sales led the quarter with a 1.2% increase. The company reported that the decline in restaurant traffic was offset by increases in average check. The fast-food chain had its first quarter net restaurant decline of ten restaurants, however it reported 26 development agreements signed for 98 future restaurants. This brings the total future restaurants in the development pipeline to 201, making it the highest level of restaurant commitments in company history.

Jack in the Box Inc. (JACK) shares ended on 02/25 at $87.12, down 3.9% for the week.


Beyond Meat Reports Quarterly Earnings

Beyond Meat, Inc. (BYND) released its second quarter earnings report on Thursday, February 24. The plant-based meat company's shares fell as much as 11% following the report's release.

Beyond Meat's net revenue for the second quarter was $100.7 million, a 1.2% decrease from revenue of $101.9 million in the same quarter last year. Net revenue fell short of Wall Street's expectation of $101.4 million.

"The investments we made in our team, infrastructure, and capabilities across the U.S., EU, and China, as well as extensive product scaling activities for key strategic partners, weighed heavily on operating expenses and gross margin during a fourth quarter and year that were already impacted by lower-than-expected volumes," said Beyond Meat CEO, Ethan Brown. "Despite the adverse impact on the quarter, we are highly confident that these investments in terms of team, infrastructure, product scaling and more generally setting up strategic partnerships for success, will generate strong returns in the years ahead."

Beyond Meat reported a net loss of $80.3 million or $1.27 per common share. During the same quarter last year, the company reported a net loss of $25.08 million or $0.40 per common share.

Beyond Meat attributed its lower-than-expected performance to softer demand, increased discounts, loss of market share and five fewer shipping days compared with the year-ago period. In addition, the company's choice to lean on more expensive co-manufacturing facilities rather than its own manufacturing plants for production, along with the decision to focus on its restaurant business rather than creating new grocery products, were contributing factors to its slow growth. Despite the company's decreased advancement, the return of in-store sampling, expanded distribution and new marketing is expected to help revive grocery sales.

Beyond Meat, Inc. (BYND) shares ended the week at $44.49, down 20.5% for the week.


EBay Shares Fall

EBay Inc. (EBAY) released its fourth quarter and full year earnings report on Wednesday, February 23. The e-commerce company's shares fell nearly 11% following the release of its report.

The company reported quarterly revenue of $2.61 billion, in line with analysts' estimates. This was up 5% from $2.48 billion at the same time last year. For the full year, revenue was up 17% to $10.42 billion.

"Rounding out a very strong year, I'm proud of our team for delivering yet another solid quarter. By investing in our strategy to drive sustainable growth, we increased customer satisfaction, improved the seller and buyer experience, and returned value to our shareholders," said EBays CEO, Jamie Iannone. "During the quarter, we completed our multi-year payments transition, and generated growth in both our advertising business and focus categories. As we continue to accelerate our strategy, we are well positioned for future growth."

The company reported quarterly net income of $647 million, or $1.05 per diluted share. This was up from $591 million or $0.85 per diluted share at the same time last year. Net income for the full year was $2.66 billion, up 12% from $2.38 billion last year.

The company reported $147 million active buyers for the fourth quarter, a 9% decrease compared to this time last year. EBay debuted its new 3D true view technology for sneakers, which enables sellers to showcase the actual item they are selling with a proprietary, interactive, 360-degree view and allows buyers to view the item from every possible angle and in true-life detail. The launch of EBay Refurbished, a new destination where buyers can discover like-new products from brands such as Apple, Samsung, and the like, has also driven material growth in these categories.

EBay Inc. (EBAY) shares ended the week at $54.60, down 1.4% for the week.

The Dow started the week of 2/21 at 33,974 and closed at 34,058 on 2/25. The S&P 500 started the week at 4,333 and closed at 4,385. The NASDAQ started the week at 13,424 and closed at 14,188.
Treasury Yields Slightly Decrease
U.S. Treasury yields dipped throughout the week as investors monitored the latest developments around the Russian invasion of Ukraine. Yields slipped on Friday even after the Federal Employment Reserve's inflation gauge rose more than expected.

On Thursday, the U.S. Department of Labor announced that the consumer price index, which measures the costs of dozens of everyday consumer goods, rose 5.2% year-on-year in January, up from 4.9% as compared to the prior year. January's core number gain was the largest since April 1983.

"Despite the war in Ukraine, the Fed is going to be forced to raise interest rates next month and they will have pressure to raise rates... at the same pace or quicker than would have been the case had Russia not invaded Ukraine," said Chief Investment Officer of Independent Advisor Alliance, Chris Zaccarelli.

The benchmark 10-year Treasury note yield opened the week of 2/21 at 1.928% and traded as low as 1.847% on Thursday. The 30-year Treasury bond yield opened the week at 2.245 % and traded as high as 2.308% on Wednesday.

On Thursday, the U.S. Department of Labor reported that initial claims for unemployment insurance totaled 232,000. This was better than market estimates of 235,000 and an improvement from the prior week's total of 248,000.

"Beyond weekly moves, we see the downtrend in filings persisting as virus-related disruptions continue to dissipate and businesses return to more normal operations," said chief U.S. economist at High Frequency Economics, Rubeela Farooqi. "Overall, strong demand for labor amid labor shortages suggest layoffs will remain low."

The 10-year Treasury note yield closed at % on 2/25, while the 30-year Treasury bond yield was %.
Mortgage Rates Decrease
Freddie Mac released its latest Primary Mortgage Market Survey on Thursday, February 24. The mortgage rates saw a slight decrease this week, but the overall rise is due largely to rising inflation coupled with unexpectedly high consumer spending.

This week, the 30-year fixed rate mortgage averaged 3.89%, down from last week's average of 3.92%. Last year at this time, the 30-year fixed rate mortgage averaged 2.97%.

The 15-year fixed rate mortgage averaged 3.14% this week, down slightly from 3.15% last week. During the same week last year, the 15-year fixed rate mortgage averaged 2.34%.

"Even with this week's decline, mortgage rates have increased more than a full percent over the last six months," said Freddie Mac's Chief Economist, Sam Khater. "Overall economic growth remains strong, but rising inflation is already impacting consumer sentiment, which has markedly declined in recent months. As we enter the spring homebuying season with higher mortgage rates and continued low inventory, we expect home price growth to remain firm before cooling off later this year."

Based on published national averages, the savings rate was 0.06% as of 1/18. The one-year CD averaged 0.13%.
Published February 25, 2022
Previous Articles
Starbucks Reports First Quarter Earnings
American Express Reports Earnings