Tuesday January 31, 2023
Finances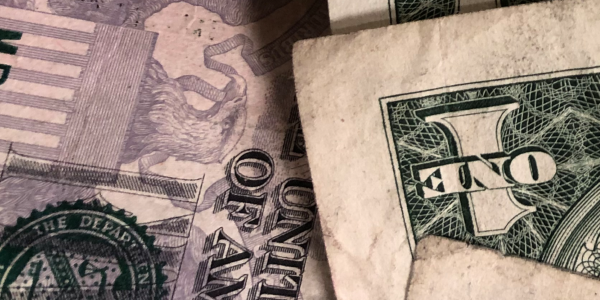 Hewlett Packard Reports Earnings
Hewlett Packard Enterprise Co. (HPE) released its first quarter earnings report on Monday, February 28. The information technology products and services provider's stock rose more than 2% following the release of the report.

Hewlett Packard reported quarterly revenue of $17 billion. This is up 9% from last year's first quarter revenue of $15.6 billion. This exceeded analysts' expectations of $16.5 billion in the first quarter.

"We once again delivered strong top and bottom-line results with record revenue driven by strong demand and our leadership in hybrid," said HP President and CEO, Enrique Lores. "Our Q1 performance was particularly strong across our key growth areas that collectively grew double digits including gaming, peripherals, workforce solutions, consumer subscriptions, and industrial graphics and 3D. Our performance reflects progress against our strategy to build a stronger HP."

The company announced net earnings of $1.1 billion for the quarter, which remained unchanged from its net income one year ago. On an adjusted earnings per share basis, the company reported adjusted earnings of $0.99 per share, which was more than the $0.83 per adjusted share this time last year.

Hewlett Packard announced an increase in personal computer sales for the quarter and reported personal system net revenue of $12.2 billion, up 15% year over year. The company attributed the increase to consumers' ability to work from home due to the pandemic. This new work-from-home environment also led to commercial net revenue increasing to 26%.

Hewlett Packard Enterprise Co. (HPE) shares closed at $16.42, up 4.3% for the week.


AutoZone Posts Earnings Report

AutoZone, Inc. (AZO) released its second quarter earnings report on Tuesday, March 1. The auto parts company's shares increased 3.6% after the company released better-than-expected quarterly earnings.

The company reported net sales of $3.4 billion during the quarter, exceeding analysts' expectations of $3.2 billion. This was up 15.8% from $2.9 billion in sales during the same quarter last year.

"Our second quarter's results are a reflection of our AutoZoners' continued commitment to delivering exceptional service to our customers during these unique times," said AutoZone CEO, Bill Rhodes. "Our retail and commercial sales performance remained strong this quarter. While our commercial sales growth continued to be elevated at 32.1%, our retail sales growth also remained healthy with over 10% growth against a tough comparison from a year ago. We believe the initiatives we have in place position us well for the remainder of our fiscal year."

AutoZone reported net income of $471.8 million for the quarter, up 36.4% from $345.9 million in the same quarter last year. On a diluted earnings per share basis the company reported earnings of $22.30, up 49.4% from $14.93 reported in the same quarter last year.

Domestic same store sales increased 13.8% for the quarter as demand for used cars continues to rise during the pandemic. During the quarter, AutoZone opened 26 new stores in the U.S., two in Brazil and three in Mexico. Currently, the company has a combined total of 6,815 stores in all three countries. The increase in new store openings resulted in the company's inventory increasing 6.2% over the same period last year.

AutoZone, Inc. (AZO) shares ended the week at $1,891.36, up 3.4% for the week.


Wendy's Releases Earnings

The Wendy's Company (WEN) reported its fourth quarter and year-end earnings on Tuesday, March 1. The fast-food company's earnings surpassed analysts' expectations for both net sales and net earnings for the quarter.

Wendy's reported net sales of $473.2 million, down from $474.3 million reported in the same quarter last year. Reported net sales exceeded analysts' expectations of $462 million for the quarter. For the full year, the company reported net sales of $1.9 billion, up from $1.7 billion the year before.

"2021 was a breakthrough year, as evidenced by significant growth across our business," said Wendy's President and CEO, Todd Penegor. "With focus on executing our key priorities and maintaining the momentum in our business, our future is bright and I am confident that we will continue to make meaningful progress towards achieving our vision of becoming the world's most thriving and beloved restaurant brand."

The company reported net income of $52.1 million for the quarter or $0.24 per adjusted share. This is up 34.6% from $38.7 million or $0.17 per adjusted share during the same quarter last year.

The Dublin, Ohio-based fast-food company announced it had acquired 93 franchise-operated restaurants in Florida for $128 million during the quarter as part of the company's ongoing system optimization initiative. The company completed a $300 million share repurchase authorization during the quarter, which included a $125 million accelerated share repurchase program. The company also announced a new $100 million share repurchase authorization for the upcoming quarter.

The Wendy's Company (WEN) shares closed at $21.53, down 3.9% for the week.

The Dow started the week at 33,871 and closed at 33,615 on 3/4. The S&P 500 started the week at 4,354 and closed at 4,329. The NASDAQ started the week at 13,571 and closed at 13,313.

Treasury Yields Drop
U.S. Treasury yields dipped throughout the week as investors continue to monitor the latest developments around the Russian invasion of Ukraine. Yields continued to fall on Friday despite the Labor Department's unemployment rate returning better than expected.

On Friday, the Labor Department's Bureau of Labor Statistics reported that the U.S. added 678,000 jobs and the unemployment rate dropped to 3.8% for February. The unemployment rate came in better than analysts' estimates of 3.9%.

"If we see more numbers like this moving forward, we can be optimistic about this year," said economic research director at Indeed, Nick Bunker. "Employment is growing at a strong rate and joblessness is getting closer and closer to pre-pandemic levels."

The benchmark 10-year Treasury note yield opened the week of 2/28 at 1.969% and traded as low as 1.704% on Wednesday. The 30-year Treasury bond yield opened the week at 2.277 % and traded as low as 2.096% on Wednesday.

On Thursday, the U.S. Department of Labor reported that initial claims for unemployment insurance totaled 215,000. This was better than market estimates of 225,000 and an improvement from the prior week's total of 233,000.

"Labor demand is very strong, and while labor force participation has ticked up, labor supply remains subdued," said Federal Reserve Chair, Jerome Powell. "As a result, employers are having difficulties filling job openings, an unprecedented number of workers are quitting to take new jobs, and wages are rising at their fastest pace in many years."

The 10-year Treasury note yield closed at 1.73% on 3/4, while the 30-year Treasury bond yield was 2.16%.

Mortgage Rates Decline
Freddie Mac released its latest Primary Mortgage Market Survey on Thursday, March 3. Mortgage rates saw a decrease this week, due in part to the market's reaction to Russia's invasion into the Ukraine.

This week, the 30-year fixed rate mortgage averaged 3.76%, down from last week's average of 3.89%. Last year at this time, the 30-year fixed rate mortgage averaged 3.02%.

The 15-year fixed rate mortgage averaged 3.01% this week, down from 3.14% last week. During the same week last year, the 15-year fixed rate mortgage averaged 2.34%.

"Geopolitical tensions caused U.S. Treasury yields to recede this week as investors moved to the safety of bonds, leading to a drop in mortgage rates," said Freddie Mac's Chief Economist, Sam Khater. "While inflationary pressures remain, the cascading impacts of the war in Ukraine have created market uncertainty. Consequently, rates are expected to stay low in the short-term but will likely increase in the coming months."

Based on published national averages, the savings rate was 0.06% as of 2/22. The one-year CD averaged 0.14%.
Published March 4, 2022
Previous Articles
Jack in the Box Provides Quarterly Earnings
Starbucks Reports First Quarter Earnings